Blog
| 16 Jul 2017
Language is now not an overwhelming obstacle to Westerners following China's intellectual life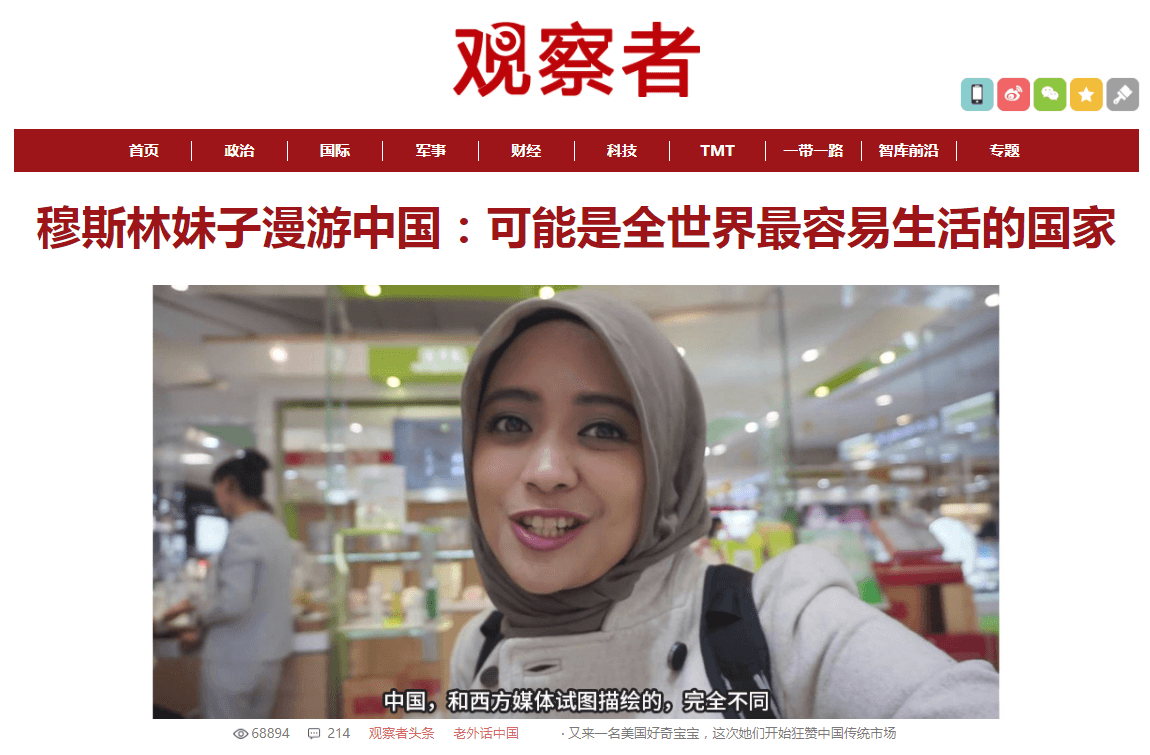 To many people outside China their lack of knowledge of the Chinese language might seem an insuperable obstacle to following closely intellectual life in China. To be truthful until recently it was – but it is no longer. The advances in internet translation software are now so great that provided something is online you can probably read it. And the more clearly or professionally defined the issue is (for example economics or geopolitics!) normally the easier it is.
​When I first started working in China in 2009 internet translation software was so primitive it was almost useless. That has completely changed. To try to show this I will take a practical example simply taken from today.
​The 'hottest'
article
on Guancha.cn, one of China's leading commentary websites, is about the observations of an Indonesian woman on her visit to China. Its Chinese headline is shown below. A correct translation is 'Muslim girl travels in China: China may be the country where it is most easy to live.'  The Google translation makes one significant error, translating 'girl' as 'sister' but no one has any difficulty in understanding the general sense.
Here is the Google translation of most of the beginning of the article:
'many foreigners traveling in China, "Vlogger" , they want to experience their own, the real China, show to the world. However, Xiao Bian feel that this is a good opportunity, so there is no chance to personally contact a lot of foreigners in China friends, to understand the foreigners perspective, and different foreigners, in fact what it is like. Today we have to talk about a Muslim sister.
'She is a poet Adriana, from the capital of Indonesia Jakarta, 25 years old, starting from 2013 to quit the $350 monthly work in Indonesia, travel alone, has been to Thailand, Singapore, Malaysia, Vietnam. Earlier this year, she came with about 1,000 US dollars to China, at present, China has become the longest country to stay.
'Why does she seem to have a look and see what the world really looks like and know friends from all over the world.'
​​There are a few sentences later in the translation which make no sense and the grammar is terrible but there is little difficulty to understand the general point. And because this is a 'personal interest' story it is more difficult to read in translation than articles on subjects such as economics which, because they have a more strictly defined vocabulary, can be much more strictly translated by software.
​Naturally for very important matters it is necessary to have a professional interpreter to check. But to follow the overall discussion is no problem. And as China's economic debates, for example, are easily the most advanced in the world it is very worth the effort. 
China's internet community is by far the largest in the world – 731 million in December 7016, or two and a half times as many as the US's 286 million. China's internet life is like a whole continent about which the rest of the world still knows far too little – and there is no longer any reason not to.
​If foreigners don't follow China's intellectual life now the only reason is because they don't want to, sometimes because they have a quite unjustified intellectual arrogance, not because they can't any more.
PS "Muslim girl travels in China: China may be the country where it is most easy to live.'
​To show a type of article that is popular in China the one on Guancha was so discussed because while Western visitors in China are relatively frequent in big cities, and there are many articles and videos by them in China, a visit by a Muslim woman from Indonesia making a Vlog (video blog) was rarer. The extremely positive headline used by Guancha 'Muslim girl roaming China' and the images Guancha used below (including showing a fantastic collection of hijabs!) speaks for itself.