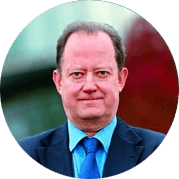 John Ross was the first non-Chinese citizen to be appointed to a full time post at a leading Think Tank in China - Chongyang Institute for Financial Studies, Renmin University of China.
The appointment was based on work beginning with his 1992 study 'Why the Economic Reform Succeeded in China and Will Fail in Russia and Eastern Europe'- which accurately predicted that China's economic reform would produce rapid economic growth while the 'shock therapy' alternatives in the former USSR and Eastern Europe would be a failure in comparison.
He is a prize-winning resident columnist in private (Sina Finance Opinion Leaders), academic based (Guancha.cn) and state (China.org.cn) media in China with over 200 articles published on China and the international economy including in Sina Finance, International Finance News, China Finance, People's Daily, Global Times, Guancha.cn, and Shanghai Daily.
His book The Great Chess Game (一盘大棋?中国新命运解析) became the no.1 best selling book on Economic Policy on Amazon China. His work has been published in English, Chinese, Spanish, French, Indonesian, Russian and Portuguese. He appears regularly on TV & radio.
John Ross has almost one million followers on Weibo - China's equivalent of Twitter/Facebook and receives over 10 million hits on his Weibo each month.
John Ross was formerly Director of Economic and Business Policy for the Mayor of London and a consultant to FTSE 100 companies.
A complete list of his publications in English and Chinese since 2013 may be found here.