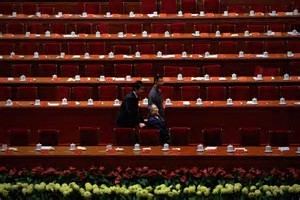 ​A Communist Party of China (CPC) Congress is always a major event, but even by that standard the 19th CPC National Congress, presumably starting October 18, will be of unusual significance. This is because since the 18th CPC National Congress in 2012 China has faced a new situation in its history and the CPC has therefore been tested in how to respond to this major turn.
Reduced to underlying essentials, never before has China faced the combination of a prolonged international period of very slow growth in the Western economies combined domestically with China's transition toward a high-income economy. Domestically, China's target is to achieve moderate prosperity by 2020 and soon after China will become a high-income economy by World Bank classification. The achievement of the CPC since the 18th CPC National Congress has been to successfully deal with this new situation.
The new situation following the 18th CPC National Congress, providing the backdrop to the 19th Party Congress, can be clearly understood by contrasting it to previous periods in China's development. In 1949, devastated by a century of foreign interventions, China was one of the world's poorest countries. Only 10 countries had a lower per capita GDP than the China the CPC under Mao Zedong took leadership of.
​
The first period of New China's development, in 1949-76, then saw the greatest social achievements in world history. Reflecting gains in education and health, and having ended foreign invasions, China's life expectancy rose by 31 years in a 27-year period, with China's life expectancy rising from 73 percent to 105 percent of the world average. No other major country has ever achieved such a rapid increase in life expectancy in human history.But stunning social successes, far outpacing world performance, were not matched by equivalent economic outperformance. China achieved 4.9 percent annual average GDP growth in 1950-78 but the world economy also grew at a fast 4.6 percent. By 1978, although economic progress had been made, by international classification China remained a "low-income" country.
In a second phase after 1978, with reform and opening-up, China's economy far outperformed other countries. From 1978 until the international financial crisis in 2007, China's annual average GDP growth was 9.9 percent compared to 2.8 percent in the Western economies. China achieved transition from a low-income to an upper-middle income economy by international classification.
Regarding these two earlier periods as Chinese President Xi Jinping put it: "The two phases – at once related to and distinct from each other – are both pragmatic explorations in building socialism … We should neither negate the pre-reform-and-opening-up phase in comparison with the post-reform-and-opening-up phase, nor the converse." The gigantic improvement in the lives of China's people in the first phase was a precondition for the second phase.
But the international financial crisis in 2008 ushered in a drastic change in the international situation which the 18th CPC National Congress had to confront. Previously Western economies grew rapidly – China grew faster but aided by international economic expansion. After the international financial crisis, Western economies drastically slowed – from 2007-16 annual average growth in advanced economies was 0.9 percent. On IMF predictions by 2021 growth in Western economies would be slower than in the Great Depression after 1929. By the 18th CPC National Congress it was clear Western economies would not return to rapid growth. In transition to moderate prosperity, China faced severe headwinds from the Western economies instead of being aided by their growth. This confronted China with a "new normal."
The international achievement of the CPC since the 18th CPC National Congress, with Xi designated as the core of its leadership, was in dealing with this new situation. Annual Western economic growth in 2012-16 was only 1.7 percent but China's annual average growth was 7.2 percent – China grew more than four times as fast as Western economies.
Thanks to the socialist character of its economy and focus on supply-side reform, China's economy remains on track to achieve moderate prosperity by 2020. In contrast, quantitative easing and similar policies pursued by Western economies proved largely ineffectual.
But economic success after the 18th CPC National Congress required foreign policy development. Given Western economic failures, China itself had to put forward policies aiding global economic growth. This was done through Xi's concept of a "community of common destiny" coupled with practical initiatives such as the Belt and Road initiative. In this framework, Xi's speech to the Davos World Economic Forum received wide international support, as did the Belt and Road and BRICS summits.
​
Therefore the 18th CPC National Congress was of unusual significance. The CPC, as with Mao Zedong in 1949 and Deng Xiaoping in 1978, faced a new situation – in this case how to successfully make the transition to moderate prosperity faced with very slow Western growth. This, as may be seen from developments since 2012, is being successfully achieved – laying the basis for the 19th CPC National Congress.
*   *   *
This article originally appeared in
Global Times
on 18 September 2017.