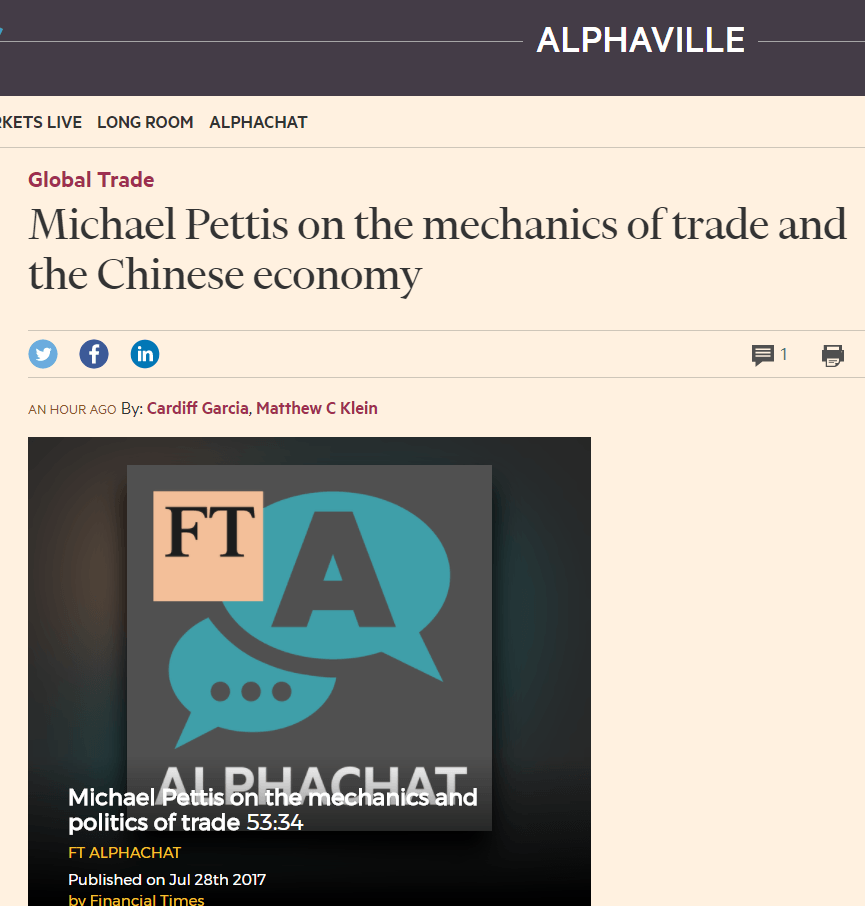 ​The
Financial Times
today publishes a podcast by
Michael Pettis
– an author belonging to the 'China will have a drastic slowdown' school who the FT has published before. Pettis is cited in some media as a 'China expert' – the Carnegie Endowment for International Peace, where he is a
Senior Fellow
, describes him as 'a noted expert on China's economy.' Eeaders are therefore likely to encounter Michael Pettis and I have written a short comment on the FT article showing his inaccuracy – as with all the China hard landing school. It is below.
*   *   *
​I very much like the fact that Michael Pettis edited his blog in a very fair and open fashion. But unfortunately his projections for China's economy are serially highly inaccurate. For example his predictions:
11 March 2012: 'I still maintain that average growth in this decade will barely break 3%'   – so far this decade China's annual average growth has been 7.7%.
14 August 2009: 'I continue to stand by my comment last year… that the US would be the first major economy out of the crisis and China one of the last' – since 2007 China's total GDP growth has been 106% and the US 12%
These  are not detailed errors, which are inevitable, but a fundamentally wrong analysis of China's dynamic and are due to underconsumptionist economic theories in The Great Rebalancing.
For those who want a list of other basically inaccurate predictions on China's economy please see: ' Wrong Analyses of China – Listed by Author and Date' https://learningfromchina.net/wrong-analyses-of-china—listed-by-author-and-date.html
To make an obvious point, but one too often neglected, to be an 'expert on China' is not to write many words that are inaccurate about China, it is to write analyses which are accurate about China.
But at least Micheal Pettis edited his blog in way that these errors could be pointed out.