Blog
| 29 Oct 2017
China was ready to support Greece at the height of the 2015 debt crisis says former Greek Finance Minister Varoufakis – an important lesson for Europe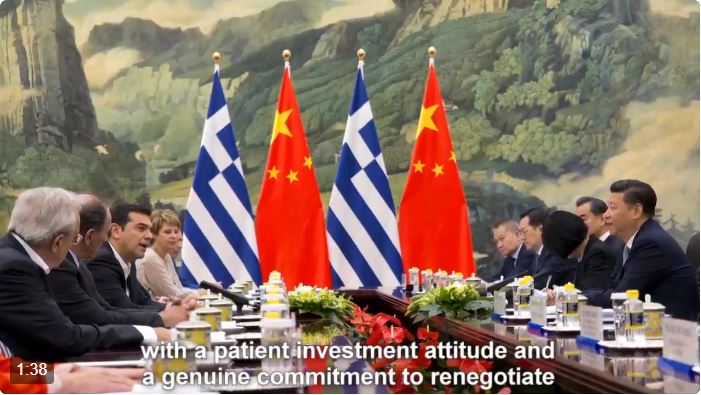 In an important and revealing video former Finance Minister in Greece's Syriza government, Yanis Varoufakis, has revealed his successful negotiations for a mutually beneficial investment agreement between China and Greece at the height of the Greek debt crisis in 2015. This revelation explains several important recent developments regarding Greece and China and has important implications for the Europe and international left wing parties.
In his account of these events Varoufakis strongly commends China's ability to achieve what China would term a 'win-win' outcome – simultaneously meeting Greece's need for investment to revive its economy with expansion of activity in Europe by Chinese companies. He also reveals this mutually beneficial deal was then blocked by intervention by the pro-austerity Berlin government.
These revelations, and his praise of China, by Varoufakis are important for several reasons.
First, Varoufakis is a respected figure internationally among those of a left wing political orientation and among left wing political parties. His clear praise of  China's role will help weak anti-China confusion among such political circles.
​Second, this revelation that at the height of the Greek debt crisis China offered a constructive way forward for both Greece and its own interests helps explain the positive attitude the Syriza government has taken to China – including blocking attempted EU propaganda against China.
Third, although Germany blocked the comprehensive deal between China and Greece this has not stopped Chinese investment in Greece. The New York Times recently noted regarding the port of Piraeus: 'China invested nearly half a billion euros in the port, transforming it into the busiest harbor in the Mediterranean.' And: 'Prime Minister Alexis Tsipras returned from a summit meeting in Beijing in May, where he signed billions of euros worth of new investment memorandums with Chinese companies.' Such investment is clearly of mutual benefit of the Greek people as well as China.
This clear explanation of the background to these events by Varoufakis therefore has important lessons for Europe and more widely. The text of Varoufakis video is below but the original contains much interesting information and readers are strongly recommended to view it.
*   *   *
Greece and China, two ancient civilizations, two countries whose peoples have had a long experience, and quite recently, of colonialism, of being treated like the sick men of the world. Europe in our case, Asia in the case of China.
In 2015, when I was conducting negotiations with the Chinese side, in parallel to the negotiations we were having with the European Union and the International Monetary Fund, I was very pleasantly surprised by the way in which the Chinese authorities managed to combine their sense of self-interest with a patient investment attitude and a genuine commitment to renegotiate and negotiate and discuss again and again and again with us, with a view to achieving a mutually advantageous agreement. The discussions began regarding the Port of Piraeus, where COSCO, a state owned Chinese company, already had their foot in the door, so to speak, and there was a discussion about how to extend its operations. They were very surprised when I proposed to them that this should be part of a broader investment exercise in Greece by China, involving railways, technology parks, involving all sorts of activities where our economy needed patient capital, like shipbuilding and shipyards and tourism.
We came to a magnificent agreement. The showed broadmindedness, they were prepared to accept collective bargaining agreements with trade unions. They were prepared to take it step by step in a way that would, of course, benefit them but would also benefit us in a non-colonial manner. What stopped it was an intervention by Berlin insisting that no deal should go through until and unless the Eurozone had finished with the Greek government.