Blog
| 07 Mar 2018
A 'must read' article on current China-India disputes by a leading Indian analyst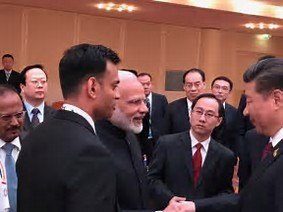 Prem Shankar Jha is a leading Indian journalist, columnist and former editor of the Hindustan Times, New Delhi. He has published an outstanding analysis of current dangerous China-India disputes, which centre on Bhutan, written from an Indian perspective '
India-China: Differences, disputes and deadlock'. The whole article is a 'must read' but a few excerpts are given here to give the flavour of the analysis.
​First it shows it is India, not Bhutan, which has been seeking to create India-China tensions:
'India has close relations with Bhutan, but Bhutan is a sovereign country, which has the right to decide how it will deal with its disputes with other countries. India's intervention has, in effect taken this right away from Bhutan. A studied silence on this issue from Thimpu suggests that India's hasty defence of Bhutan is not entirely welcome there.
Bhutanese newspapers have reported the stand-off almost entirely in factual terms
, without comment. Kuensel, the state-owned newspaper, pointed out that Doklam/Donglang is only one of four territorial disputes China had with Bhutan. Would it be too far fetched to assume that it is hinting to New Delhi that, since it cannot step in to resolve all of them it would do better to leave these to Bhutan?'
​Second it shows how India's prime minister Modi has consciously created current India-China tension:
​'The turnaround in Sino-Indian relations has been so swift, that it's left most people in China and India confused. What is beyond doubt is that it was initiated by Mr Modi. The first indication was Modi's sudden, and well- publicised, replacement in January 2015 of Indian foreign secretary Sujatha Singh by then Indian Ambassador to the USA, S. Jaishankar a day after his first meeting with former US President Barack Obama in Washington, and one day before Jaishankar was due to retire from the Indian Foreign service.'While Modi has never revealed his reasons, two years later, the Indian daily Hindustan Times
summed them up
, when Foreign Secretary Jaishankar got an unprecedented third extension of service, " a Prime Minister has found a foreign secretary in tune with his vision and worldview, and his risk-taking appetite… for too long, India has been held back in its engagement with US in particular because of ideological categories which are no longer relevant….".
​'Since then Mr Modi has lost no time in turning China from a friend to a foe. Whatever passed between him and Obama at their first meeting, brought Obama post haste to India to be Modi's chief guest at its Republic day celebrations on January 26 2015. Obama's purpose surfaced a day earlier when the two leaders signed the "U.S.-India Joint Strategic Vision for the Asia-Pacific and Indian Ocean Region".'
​Third the article accurately analyses the dangerous situation Modi has created:
​'Today Mr Modi is faced with having to do something he has never done before. This is to admit, however tacitly, that he has made a mistake, pull Indian troops back from the Dokalam plateau, and step back. If he does not, then China has made it absolutely clear that it will go to war to evict the Indians from Doklam/Donglang. What is worse the war will be fought on Bhutanese territory over the objections of its leaders and people.
'Hordes of Indian "analysts" who have been asked whether the present confrontation could lead to war have hastened to say 'no'. That is precisely the wishful thinking that preceded the 1962 China-India war. The truth is that having manoeuvred India into just the impossible position, Beijing would be stupid not to take advantage of it to administer another crushing defeat upon its only rival in Asia.
​'Short of giving a formal ultimatum China has left no avenue unused to convey this warning… China's Ambassador to India, Luo Zhaohui, expressly did not rule out war when questioned persistently by a correspondent, and warned New Delhi:" "The first priority is that the Indian troops unconditionally pull back to the Indian side of the boundary. "That is the precondition for any meaningful dialogue between China and India."
'A day later, in a moderately worded, but steel-hard editorial Xinhua, the official Chinese news agency, stated that if India did not want a further
escalation
of the situation in Doklam, it must withdraw its troops to the Indian side of the border.'
​But these are only parts of the article. As said at the beginning it is a 'must read' for anyone wanting to understand present India-China relations.
​Prem Shankar Jha is author of The Twilight of the Nation State: Globalisation, Chaos and War.