Blog
| 17 Aug 2017
"To me," Bannon said, "the economic war with China is everything. And we have to be maniacally focused on that."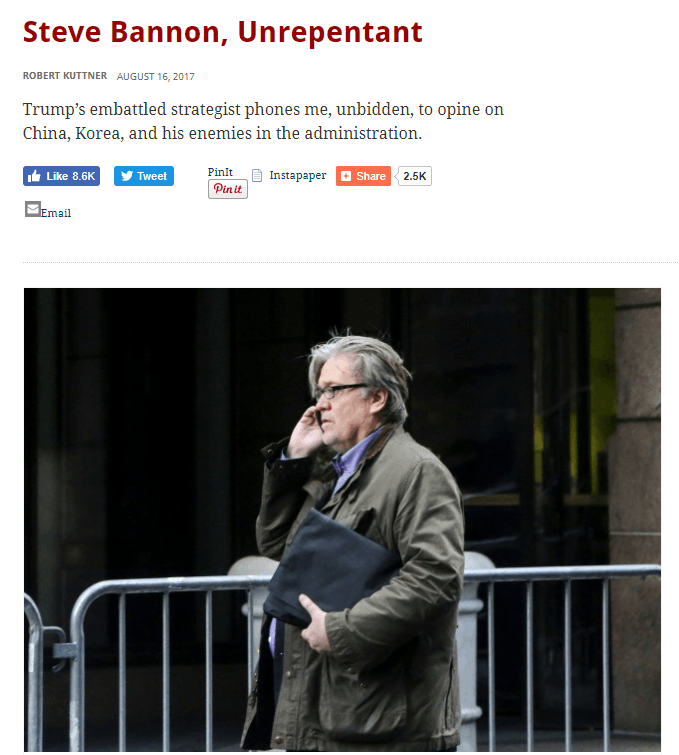 President Trump's Chief Strategist, Steven Bannon, has given an interview to
'The American Prospect
' magazine in which he lays out with crystal clarity his perspective for the Trump Presidency. Everything else must be rapidly subordinated to an economic confrontation with China. As he put it: '
"To me," Bannon said, "the economic war with China is everything. And we have to be maniacally focused on that. If we continue to lose it, we're five years away, I think, ten years at the most, of hitting an inflection point from which we'll never be able to recover."
​Bannon declared the Trump administration would be changing the staff at the State Department to bring in hardline anti-China forces: '"I'm changing out people at East Asian Defense; I'm getting hawks in. I'm getting Susan Thornton [acting head of East Asian and Pacific Affairs] out at State."
​
Robert Kuttner, co-editor of 
The American Prospect
, a 'progessive' US publication, reports Bannon as explaining to him: '
Bannon explained that his strategy is to battle the trade doves inside the administration while building an outside coalition of trade hawks that includes left as well as right. Hence the phone call to me.'
​In the interview Bannon also explained his tactics to Kuttner: 'Bannon's plan of attack includes: a complaint under Section 301 of the 1974 Trade Act against Chinese coercion of technology transfers from American corporations doing business there, and follow-up complaints against steel and aluminum dumping. [Bannon said] "We're going to run the tables on these guys. We've come to the conclusion that they're in an economic war."'
Despite the fact that there is no evidence China is in an 'economic war' with the US, Bannon decided to declare one because he saw US-China relations not as 'win-win' but as a 'zero sum game' to be 'hegemon' of the world: '"We're at economic war with China," he added. "It's in all their literature. They're not shy about saying what they're doing. One of us is going to be a hegemon in 25 or 30 years and it's gonna be them if we go down this path."
​Kuttner outlined that Bannon considered himself if a fight every day to win the US administration to be 'maniacally focused' on subordinating everything else to 'economic war with China'. Kuttner wrote of his questions to Bannon in the interview : '
But what about his internal adversaries, at the departments of State and Defense, who think the United States can enlist Beijing's aid on the North Korean standoff, and at Treasury and the National Economic Council who don't want to mess with the trading system?
​'"Oh, they're wetting themselves," he said, explaining that the Section 301 complaint, which was put on hold when the war of threats with North Korea broke out, was shelved only temporarily, and will be revived in three weeks…
​'"That's a fight I fight every day here," he said. "We're still fighting. There's Treasury and [National Economic Council chair] Gary Cohn and Goldman Sachs lobbying."
​'"We gotta do this. The president's default position is to do it, but the apparatus is going crazy. Don't get me wrong. It's like, every day."'
​Bannon's interview strongly confirms the analysis of forces inside Trump's administration on this website in ​'
The Neo-Con Forces Behind Trump's 'Twitter Storm' Against China
', while Bannon's account of the daily fighting in the administration confirms the analysis in '​
The Economic Logic Behind Trump's Foreign Policy – Why the Key Countries are Germany and China
'. I hope people will read these articles.
​Meanwhile China, and those who rightly understand that 'win-win' economic co-operation is the best way to prosperity for everyone, have been warned. 
'The economic war with China is everything. And we have to be maniacally focused on that' – it couldn't be a clearer statement.